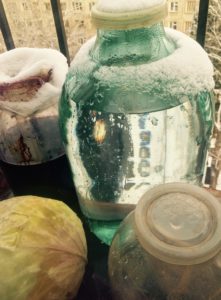 by Aleksei Bobrovnikov
«Sloik». Sounds almost like a «stoic», but it is not… In my native Ukrainian «sloik» (a «mason jar» in English) means a very particular thing from the era of total deficits, shortages, one big war, then a smaller one, great famine and a nuclear fallout of the 80-s. This three-liter transparent glass jar of industrial production (they sold juices in these jars those years) later was used as foodbank virtually in every household.
Not surprisingly word «banka» (a glass jar, almost a synonym to Ukrainian «sloik» but with a broader meaning) in local parlance was not a metaphoric but an actual substitute for modern banks. It was and remains such back in the East of the post-Soviet Europe where some $100 billion are stored in cash by the population that is famous for it's wise saying: «Oh, we're short of cash. Now let's sell dollars.»
I clearly remembered these words «banka» and «sloik» and «deficit» these days in Germany.
The queues in the markets and the empty shelves with pasta (Italian, eh?) and, not surprisingly (to me at least) the shortage of… toilet paper!
Remember Venezuela, just a year ago. Soldiers were getting paid with the rolls of this precious good for remaining loyal to the government and shooting at the crowds… Venezuela became my first nostalgic piece of news: long live the deficit!
Firstly, the deficit of trust.
Secondly, the deficit of press… I will come back to the newspaper business later in this story.
So let us get back to the issues of trust. To buy the trust of their military the officials in Venezuela were bribing their loyalists in the rank and file with this precious asset.
First they take Caracas, then they take Berlin?
Nowadays I couldn't find toilet paper in Rewe or Penny. Even in Galeria, it was absent.
Totally and fully. Shelves with the toilet paper due to the coronavirus panic are empty again as if we were back in the 90-s in the post-Soviet world.
Did I felt nostalgic?
Well, there was a trace of that itch for the fatherland, but then I walked into a cheese department in a local German store.
And my heart melted!
Parmeggiano, (practically smuggled into the country in times of Corona fear). It was there, almost two euro per a nice fat slice! Same price I paid in Rewe just the other day for the last two rolls of nice and smooth paper…
So coming back to the Italian cheese — I could not resist and purchased all that was in stock. Then I grabbed a bunch of Irish sirloin steaks. I should have checked the news first… Now I do think I have miscalculated and since Ireland is still corona-free I still could buy them the next day when I would really want to go for a steak. But who knows what news tomorrow brings.
I also took some fine dates (supposedly from Morocco and Africa is still safe from COVID-19!) and then I've spent what was left on some Australian wine (cheers to Tom Hanks, and get well soon, old bro!)
Then I checked it again in the section of towels and other items of personal hygiene.
Wet towels, soap, shampoos, shower gel — everything was in stock. The toilet paper was not there…
Damn, it's a paradox — why would you need so much toilet paper? Is it all made in Italy? Or has the paper production already collapsed?
«It's nonsense and yet it's real» — that's what I thought to myself and speaking this thought out loud I kinda came close to the answer.
I recall the corresponding behavioral patterns back home in the 90-s when the shelves were empty and the purses even emptier. Ten years before, in the 80-s right after the Chornobyl disaster, my grandmother was filling these famous mason jars, the «sloiks» or «bankas» with buckwheat and rice.
And she was extremely prophetic, as even the KGB at the time (and we know it now from the leaked wires) was astounded by the stupidity of the Soviet propaganda that was advertising that year's crop on the TV…
That terrible creepy year of 1986. I was seven at the time.
And now, these days in Germany the thought struck me and this thought looked comforting and yet a bit unpleasant.
Have you ever had this kind of thoughts? Seemingly comforting yet with an itchy aftertaste?
That's exactly what I felt these days.
So the thought was this: my grandparents were buying buckwheat or rice but not toilet paper because there was no shortage of newspapers as «Pravda» or the «Evening Kiev». This substitute for toilet paper was always available for free!
One can say the toilet paper is smoother and more delicate and oh yes I would not deny this fact…Though even being an important good, the toilet paper became slightly overvalued these days in the modern world.
And then the other thought came to my mind.
Maybe it's not only about the panic, the apocalyptic scenarios or the fears of the unknown.
Maybe it's not only about the fear of losing the comfort in this most delicate zone that this missing good is created to protect and caress.
Maybe it's just because Germans are happy and proud to have solid and good newspapers and magazines. So unlike us back in the USSR they would rather buy all the toilet paper in the world but will never spoil a piece of a good newspaper editorial neatly prepared and carefully edited and nicely printed to protect not the lower, but the upper parts of their precious bodies.
Photo is taken in Tbilisi, Georgia (former GSSR) January 2018.