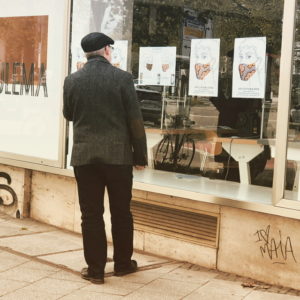 They seem relaxed and off the hook. Yet, they jump exact 20 cm. back from anyone who comes closer.
With a smile on their faces, looking like a smile of shyness, a shadow from what they were just weeks ago before the quarantine.
In the market, in a queue, on the street.
Jumping back the exact distance that should preserve them from breaking the 1,5 meter suggested distance between the two breathing creatures, a shelter from that drop of moisture that may bring the sickness into the house.
Although just hours before the restrictions were imposed Bavarians eagerly drank beer in the beer-gardens showing no signs of nervousness.
Jolly spring that Friday (or Saturday, I lost my grip of the reality in the calendar) and then the next morning — silent street with no signs of yesterday party.
Were they eager to follow the rules?
One has to be German to understand that.
A close friend of mine, a beautiful German young lady, gave me a call just days after the lockdown started.
"May you imagine what he has just done!?"
Her voice was breaking, she was on edge.
"He went to see his parents straight away after the quarantine was imposed! Can you imagine that? Such an irresponsible…"
She used some language.
"Never ever I want to see him again.." — she resumed, crying.
"An artist." — I thought to myself.
"Keep safe" — I said in a low voice.
Then I thought: "how great there is no temptation to go to see my beloved ones around the world".
Kiev, Hamburg, somewhere states-side I don't even know exactly where someone I care for resides now.
Being quarantined is never an issue when you're alone.
The real test for the community, however, starts the same moment one has to choose between the future and the present.
Between the want and need.
Germans has chosen to follow the rules whether they like it or not. And the natural habit of stepping back when approached by a stranger is paying off.
The moment it's all over will be celebrated here as the new reunification day: I though to myself.
Much jollier, though.
But this 1,5 meter thing between us would probably develop a new habit.
Like a long wooden stick under a pupils shirt some century ago kept him from developing scoliosis…
1,5 meter distancing may become something we will actually find comforting.
And this is what I myself dread in the end, as we will probably keep this new habit.
Cos the new fears and the new viruses are easily spread but even with the whole strength of the modern science are still so hard to address.